About Rotterdam Logistics Park
Green, user-friendly and reasonably priced. Discover the impact of Next Generation Logistics.
Because RLP is built sustainably, the operational costs are lower.
For example, through the use of solar panels, which the tenant may choose to lease, the park is energy positive.
And thanks to the application of Design-for-reuse, the residual value of the property is higher, which means that operating costs can be reduced.
Flexibility is a keyword at Rotterdam Logistics Park. The RLP units can be arranged flexibly, entirely according to your wishes. But that also applies to the rental period. You can talk to us about shorter and longer rental periods, some of which can be longer and some shorter. So flexible.
Productive work environment
Sufficient daylight, greenery, healthy materials and a pleasant climate.
These aspects all have a positive impact on the employees.
They contribute to reduced absenteeism and increased productivity.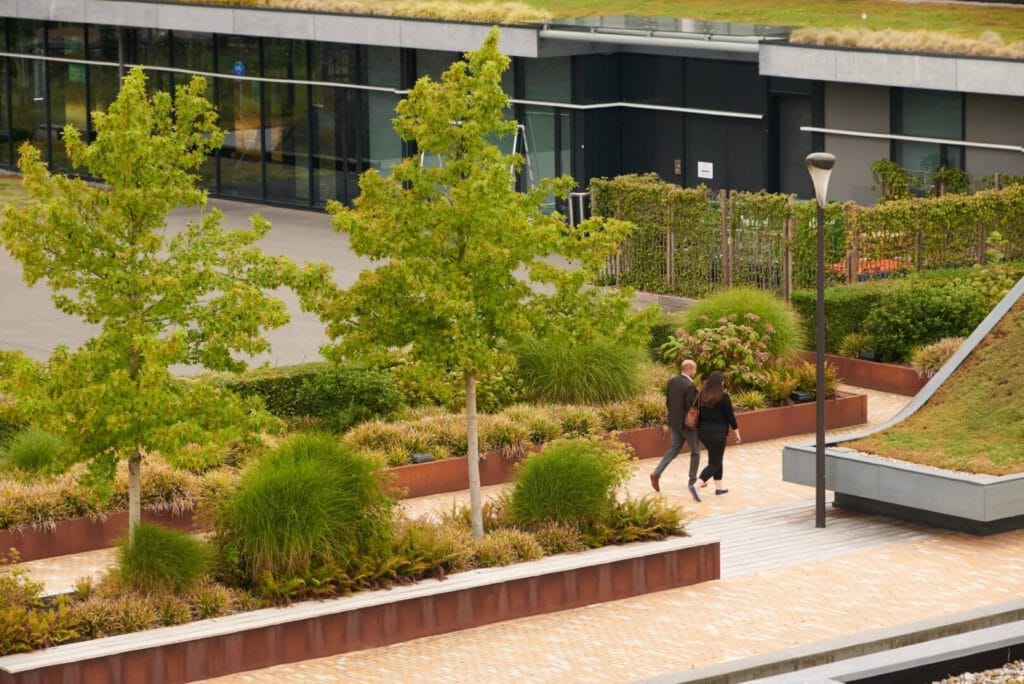 Rotterdam Logistics Park is strategically embedded in a natural landscape. A circular approach is central, with the user as the starting point. The layout is extremely flexible and can be fully adapted to all logistics needs. The use of solar panels means RLP is energy positive. The sun is also welcome in the buildings, making it a healthy and pleasant to be. With sustainability as the common denominator, a stimulating working climate is created.
Ideal location for an efficient logistics hub
Rotterdam Logistics Park will become part of the Port of Rotterdam. It is close to the logistics arteries of the Botlek area. RLP is easily accessible, both by car and by public transport.
The A15, which connects Rotterdam with a hinteland of over 460 million people, is only a 7-minute drive away. With the widening of the N57 motorway, freight traffic is literally given more space.
Delightful Hellevoetsluis
Lovers of the beach, water and cultural history will get their money's worth in Hellevoetsluis. This picturesque city offers plenty to visitors and residents alike. The city centre is great for sightseeing and has an extensive range of shops.
Rotterdam just around the corner
Rotterdam Logistics Park is close to Rotterdam, a bustling metropolis where innovation is the norm. A suitable environment for the innovative character of RLP.
Hellevoetsluis is part of the Metropolitan Region Rotterdam The Hague.